A half-dozen employees are scattered throughout Local Pig, the 
butcher shop that Chef Alex Pope opened in March 2012 down in the 
East Bottoms, roughly a stone's throw from music club Knuckleheads.
 They're slicing meat, making sausage and updating the day's offerings
 and prices on a chalkboard. Creedence Clearwater Revival's hits blares 
in the background and a guy in the back selectively howls out a lyric.
 Since it opened, Pope has had to hire a dozen employees to keep up
with demand for Local Pig's sausage, charcuterie, beef and other meats.
Pope says, "It takes an army to run this place. Within one to two months of opening, we had to hire more people." That's good news for a fledgling business. Pope had planned to sell his goods wholesale and fill butcher box subscription orders from customers.
Demand blew that approach off the doorstep. A steady stream of walk-in customers, butcher box orders and hands-on butchering classes, shifted the emphasis to retail. So Pope added staff to keep up with production. Customers snap up sausages like chorizo verde with almonds, lamb and feta cheese, Thai peanut or bourbon apple. The idea is to offer the flavors of a complete meal with fewer elements. Pope says, "With a lamb and feta sausage, you just add rice and a salad and you've got a meal. These flavors are familiar but not traditional. There's already lots of good Polish sausage in town. I want to offer something different and substantial in flavor."
Local Pig also sells 100 pounds of bacon every two days. Every. Two. Days. The shop stopped taking special orders because customers were buying the day's supply and hoarding it. Now, it is first come, first serve. KC strip steaks and potpies also fly out the door.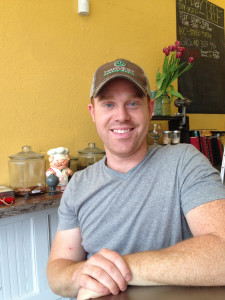 Pope opened Pigwich in March 2013, partly in response to requests from neighborhood residents and local workers. The food truck sells sandwiches like the smoked pork-laden Cubano. Customers can chow down at picnic tables in the newly landscaped patio or pay-n-go.
Pope says, "We talked to the guys in the neighborhood. They wanted food simple and fast, in and out. The food truck also draws people into Local Pig to try out our other meats."
Local Pig works with area farmers to source their pork, beef, lamb, chicken and duck. He coordinates orders months in advance so suppliers know the timing to deliver to Pope's butcher shop. Customers don't seem to flinch at Local Pig's higher prices compared to meat counters in suburban grocery stores. They know they are getting a better product. "We're known for having better tasting meat. It is free range, local and drug-free," says Pope. "It's more expensive but better. I'm not an evangelist about it, but it is better than the grocery store."
– Excerpted from KC Magazine. Published June 2013. Read more of the article featuring Jerry Fisher, Michael Amigoni and Chef Martin Heuser.