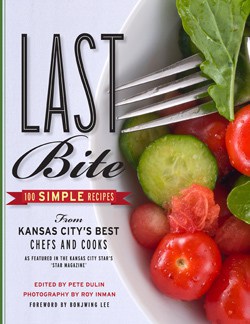 Pumpkin has been declared the new bacon.
So this week, we're celebrating the elevation of that classic fall flavor to cult status by sharing a recipe for Terry Mille's Spiced Pumpkin Cheesecake as well as some of our favorite comfort foods. We picked 15 recipes that will work on a chilly fall or winter day, as well as some that you can incorporate into your holiday menus.
All are from local chefs and have appeared in The Kansas City Star Magazine's "Last Bite" feature.
You can find these and other recipes in our new cookbook, "Last Bite: 100 Simple Recipes from Kansas City's Best Chefs and Cooks," by Last Bite author Pete Dulin and photographer Roy Inman, who have been collaborating on the weekly feature since 2009.
The book contains recipes from 40 of Kansas City's chefs and restaurant owners, such as James Beard Award winner Michael Smith of Extra Virgin, Carl Thorne-Thomsen of Story and James Beard finalists Megan and Colby Garrelts of Bluestem.
Some of the recipes we're sharing with you this week include a Spaghetti Squash Casserole recipe from The Brick's Sherri Parr, the queen of bar comfort food and Jasper Mirable's pot roast recipe made with hometown Boulevard beer.
Ten of the recipes are vegetarian.
And those meat eaters not ready to let go of bacon as a trend?
Don't worry — we've got you covered. James Taylor of La Bodega uses (Italian) bacon in his Datiles con Pancetta.
Read more here: http://www.kansascity.com/2012/11/02/3894724/sample-15-favorites-from-new-last.html#storylink=cpy
Visual Feast – Photo Slideshow
http://www.kansascity.com/2012/11/02/3898549/star-magazine-a-visual-feast-from.html
About the Author
Pete Dulin writes about food for Star Magazine, KC Magazine and Home in the Northland. "Last Bite" is his first book."Last Bite, both the recipe column and book, has been a rewarding way for me to proudly highlight Kansas City's talented chefs and culinary community," Dulin said. "Roy's vivid color photos make me want to take a bite out of each page."
Roy Inman's "checkered photography career" (as he is fond of calling it) has taken him from the aircraft carrier USS Enterprise to a bowling alley in Kansas City, Kan. But some of his favorite assignments have been shooting Last Bite recipe features. He usually got to sample the food. After, and only after, it was photographed.