Press for Kansas City Beer:
A History of Brewing in the Heartland
Author Pete Dulin discusses Kansas City Beer on the What's Up Kansas City podcast.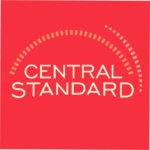 KCUR 89.3 FM, "Central Standard" show Nov. 2, 2016. Pete Dulin joins host Gina Kauffman to discuss the history of brewing in Kansas City and his latest book. Stream audio file. Or listen to "Central Standard" via iTunes or NPR, Nov. 2, 2016 episode. http://www.npr.org/podcasts/381443811/central-standard

Feast Magazine: "Kansas City Beer traces the growth of brewing in Kansas City from the first German-style brewery opening in the mid-1850s to the modern wave of 21st century breweries. The book explores historical details of nearly 70 breweries."

Northland Lifestyle: "Dulin explores some of the oldest breweries (Weston Brewing Company makes that claim) and works his way up through the birth of the craft beer movement with John McDonald's Boulevard Brewing Company. He even investigates Kansas City's shaky relationship with the temperance movement along the Kansas/Missouri State line."

435 Magazine: "Highlights from the book include a look at more than a dozen breweries that have opened in Kansas City since the start of the 21st century, how Kansas City's railroad bridge and plentiful rail lines in the 1800s attracted regional breweries to distribute there and a scandal that shook a brewery when the developer fled the country with some unfinished business."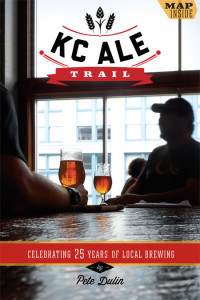 The Pitch: KC Ale Trail author Pete Dulin discusses the local beer scene in advance of book release parties.
KCUR 89.3 FM: Did Someone Say Beer? 25 Years Of Craft Brewing In Kansas City
610 Sports AM: Pete chats about KC Ale Trail, local craft beer and breweries on 610 Sports, "Fescoe in the Morning," during the Beer with the Boys 10-minute segment at the 23:19 minute mark.
Recommended Daily: Five Questions for KC Ale Trail's Pete Dulin
Feast: Upcoming 'KC Ale Trail' Book Explores Craft Breweries In and Around Kansas City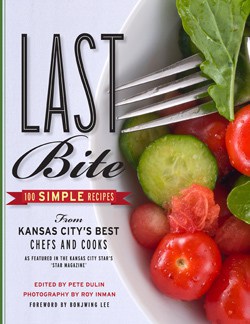 KC Star Magazine: Sample 15 favorites from new 'Last Bite' cookbook
November 4, 2012

Pumpkin has been declared the new bacon.
So this week, we're celebrating the elevation of that classic fall flavor to cult status by sharing a recipe for Terry Mille's Spiced Pumpkin Cheesecake as well as some of our favorite comfort foods. We picked 15 recipes that will work on a chilly fall or winter day, as well as some that you can incorporate into your holiday menus.
All are from local chefs and have appeared in The Kansas City Star Magazine's "Last Bite" feature.
You can find these and other recipes in "Last Bite: 100 Simple Recipes from Kansas City's Best Chefs and Cooks," by Last Bite author Pete Dulin and photographer Roy Inman, who have been collaborating on the weekly feature since 2009.
Pete Dulin on Central Standard on KCUR 89.3 FM – November 1, 2012
On the first half of Thursday's Central Standard, Jabulani Lefall talks with the creators of the recently-released book, Last Bite: 100 Simple Recipes from Kansas City's Best Chefs and Cooks. The eclectic assortment of recipes were contributed by forty chefs and cooks, yet they share a common goal: simplicity. Last Bite is a tribute to those talented people behind the recipes.
Northland Lifestyle: Northland Native Pete Dulin Publishes First Cookbook
In the Kitchen with Bonnie: Author Pete Dulin with host Bonnie Rabicoff, Chef Bob Brassard and Chef Justin Hoffman.
Last Bite Chef Appearance on KCTV5's Better Kansas City Program
Westport Cafe and Bar Chef/Owner Aaron Confessori demonstrates his Brioche French Toast recipe from Last Bite on KCTV's Better KC program on Wed. morning.
Interview on Everyday KC Internet Radio Show
Editor Pete Dulin was interviewed about Last Bite by Duane A Daugherty and Rachel Ellyn in the second half of Everyday KC for their "You Are What You Eat" show. Listen to the interview: http://tobtr.com/s/3917873
Good Health KC includes Jamie Shaw Milks' recipe for Autumn Vegetable Stew from the cookbook Last Bite: 100 Simple Recipes from Kansas City's Best Chefs and Cooks. Page 55 in print, page 57 in the digital edition – http://bit.ly/Iydgkr.