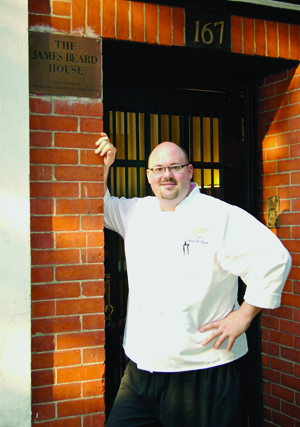 News broke today that Executive Chef John McClure, owner of Starker's Restaurant, passed away. While few details are available at this moment, many people throughout Kansas City are expressing their love, sadness, shock, disbelief and grief via Facebook. This loss hurts a lot because John was loved by so many. He had a big heart and appetite for life. He was loud, funny, benevolent and worked his tail off not only to successfully operate Starker's, but also to launch his upcoming venture Barrio in Westport.
With so much talent and drive, his death is a cruel reminder that life is too short.
Briefly, I'll share my most recent memory of John although I have many. Pam Taylor and I pulled into the parking lot of Le Fou Frog a couple of months ago. As we strolled across the parking lot, John pulled in, got out of his car, and gave us big hugs with a smile to boot.
Pam and I sat in the lounge where we were close to the staff, or family as we think of them, the kitchen, and the bar. John sat at the bar. Full of gusto, he ate, drank, and shared his thoughts with Mano Rafael, chef and owner of Le Fou Frog, and anyone within earshot. He was naughty and nice, laughing like a fiend and enjoying the moment. We chatted about Barrio and small talk.
Before he left, he wrapped me up in a warm bear hug. The wine he drank was a powerful cologne. Sincerely, he said to me, "I have much respect for you, man. You've worked in a kitchen. You know what it's like. You write and tell it like it is."
And then he was gone.
Telling it like it is – that works for you and against you. I've learned that in the past and present. I've grown from both the tough lessons and passion of Mano to the big-hearted honesty of John McClure at his Crawfish Fiestas, culinary events around town, and this one last memorable night.
Sometimes you don't get to say goodbye in person. You don't get to say, "I'm sorry" or "Thank you" or "I love you." John's exit from Life's Kitchen reminds me of the sudden, unexpected death of Lauren Chapin, The Star's restaurant critic. Both losses came too soon.
You pick up the pieces. Take stock. Try to make sense of it all and realize life doesn't make sense. You do the best you can each day and move forward until your time comes.
You are missed already, Big Country. Rest in peace.
___
John McClure Memorial – Monday, Oct. 24, 7 PM onward. record Bar. 1020 Westport Road.